Peter J. Woods
Position title: Assistant Professor
Email: Peter.woods@nottingham.ac.uk
Address:
Scheller Teacher Education Program, MIT
Pronouns: he/him/his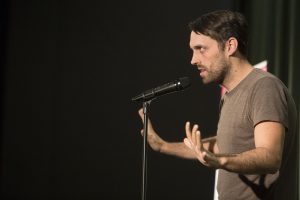 Peter J. Woods is a scholar and artist from Milwaukee, WI with a deep interest in experimental music, DIY arts communities, and communal knowledge production.
As an artist, Woods is best known for his solo work that exists at the intersection of noise music, performance art, and expanded cinema. He has toured the US extensively for over a decade and collaborated with artists including Olivia Block, Tatsuya Nakatani, Christopher Burns, and more. Woods also runs the FTAM productions organization, a record label and concert promotion organization that hosted the Milwaukee Noise Fest, the Experimental Education Series, and the Noise Knowledge Consortium. He recently served as the chair of the music committee at the Jazz Gallery Center for the Arts.
As a scholar, Woods studies the ways in which creative and disciplinary traditions both restrict and engender the pedagogies, curricula, and knowledges individuals encounter within performing arts communities, focusing on do-it-yourself (DIY) experimental music scenes in particular. This interdisciplinary work challenges both scholars and practitioners to question invisible forms of oppression embedded in cultural spaces and artifacts. He is currently an Assistant Professor in learning sciences at the University of Nottingham.