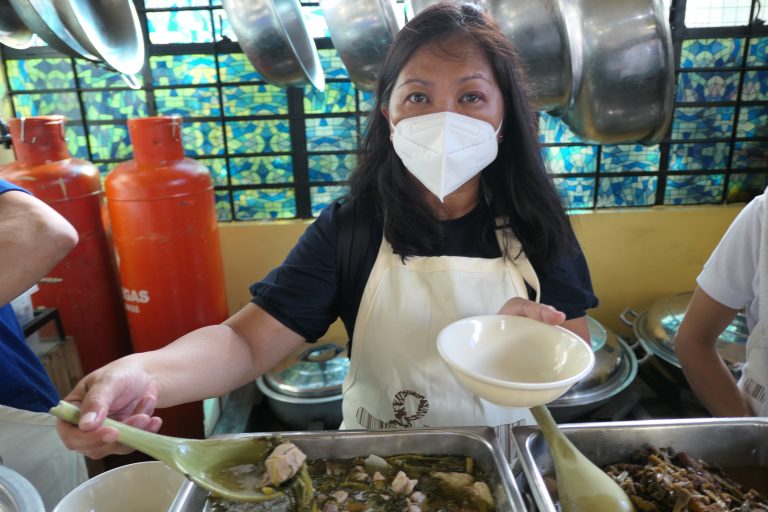 "Gut Feeling Hunger Action"
Lecture:
Thursday, April 27, 2023
5:00 PM CST
Online:
https://uwmadison.zoom.us/j/93761234036
Elvehjem L140
Workshop:
Monday, May 1, 2023
5:00-8:00 PM CST
University Club Rm 212
432 East Campus Mall
*To attend the workshop
please RSVP to cvc@mailplus.wisc.edu
All are welcome!
Lecture Abstract:
How do we end hunger? We eat. We cook or organize food. We feed people. One person or community at a time wherever we have the opportunity with whatever means we find and with whoever is doing hunger action. It's a gut feeling/filling hunger action that is not bound to any grandiose plan, driven only by a radical hope in being able to act to end hunger. It's hunger action that runs on empty, provisioned only with the good graces of pakikipagkapwa-tao (a Filipino term for and concept of solidarity) that wonderfully translates into crates of supplies and volunteers who come to cook and distribute the food. This is the experience of the Art Relief Mobile Kitchen who has been feeding survivors of calamities in the Philippines, but a similar story can be told about the A.J. Kalinga Center that has been feeding the homeless of Manila, or De La Salle Philippines' Hunger to Hope project, or about my own activities with Spatula&Barcode and various collaborators across the Philippines this past year. The lecture will be a sharing of these experiences and the critical work being done on how these have anything to do with art and performance.
Biography:Jazmin Llana is a professor in the Department of Literature, De La Salle University, Manila, Philippines whose research focuses on issues of performance, theatre, and politics, as well as environmental studies and activism. Her more recent work delves in issues of hunger and food studies through site-specific performances for action.Sponsors:Our work is made possible by support from the Anonymous Fund, the College of Letters and Sciences, and the Department of Art History. Series co-sponsors include the Departments of Afro-American Studies, Art, Chicano & Latino Studies, Communication Arts, English, Gender & Women's Studies, Asian Languages and Cultures, Spanish & Portuguese, and Theatre & Drama as well as the Institute for Research in the Humanities, Wisconsin Center for Film & Theatre Research, Center for South Asia, Interdisciplinary Theatre Studies Program, and Latin American, Caribbean & Iberian Studies Program.