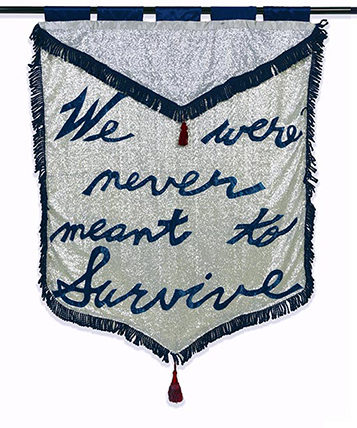 Christina Sharpe &
Cauleen Smith
A Conversation
October 18, 2017 @ 1:30pm
Helen C. White, room 6191
Events are made possible thanks to the Anonymous Fund.
Cauleen Smith

Cauleen Smith (born Riverside, California, 1967) is an interdisciplinary artist whose work reflects upon the everyday possibilities of the imagination. Operating in multiple materials and arenas, Smith roots her work firmly within the discourse of mid-twentieth-century experimental film. Drawing from structuralism, third world cinema, and science fiction, she makes things that deploy the tactics of these disciplines while offering a phenomenological experience for spectators and participants. Her films, objects, and installations have been featured in group exhibitions. Studio Museum of Harlem, Houston Contemporary Art Museum; Yerba Buena Center for Art, and the New Museum, New York, D21 Leipzig and Decad, Berlin. She has had solo shows for her films and installations at The Kitchen, MCA Chicago, Threewalls, Chicago. She shows her drawings and 2D work with Corbett vs. Dempsey.  Smith is the recipient of several grants and awards including the Rockefeller Media Arts Award, Creative Capital Film /Video, Chicago 3Arts Grant, and the Foundation for Contemporary Arts, Chicago Expo Artadia Award, and Rauschenberg Residency. Smith was born in Riverside, California and grew up in Sacramento. She earned a BA in Creative Arts from San Francisco Sate University and an MFA from the University of California, Los Angeles School of Theater Film and Television. Smith is based in the great city of Chicago and serves as faculty for the Vermont College of Fine Arts low-residency MFA program.
Read more about Smith's work in a recent ARTFORUM article.
Christina Sharpe is Professor of English at Tufts University and the author of Monstrous Intimacies: Making Post-Slavery Subject and In the Wake: On Blackness and Being. Her research interests are in black visual culture, black diaspora studies, and feminist epistemologies, with a particular emphasis on black female subjectivity and black women artists.
In In the Wake, Sharpe interrogates literary, visual, cinematic, and quotidian representations of Black life that comprise what she calls the "orthography of the wake." Activating multiple registers of "wake"—the path behind a ship, keeping watch with the dead, coming to consciousness—Sharpe illustrates how Black lives are swept up and animated by the afterlives of slavery, and she delineates what survives despite such insistent violence and negation. Initiating and describing a theory and method of reading the metaphors and materiality of "the wake," "the ship," "the hold," and "the weather," Sharpe shows how the sign of the slave ship marks and haunts contemporary Black life in the diaspora and how the specter of the hold produces conditions of containment, regulation, and punishment, but also something in excess of them. In the weather, Sharpe situates anti-Blackness and white supremacy as the total climate that produces premature Black death as normative. Formulating the wake and "wake work" as sites of artistic production, resistance, consciousness, and possibility for living in diaspora, In the Wake offers a way forward.