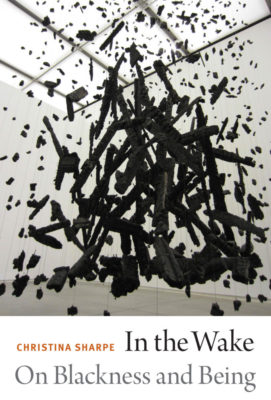 Christina Sharpe
 Lecture: Black. Still. Life. 
Nellie Y. McKay Lecture in the Humanities
Thursday, October 19
6:00pm
Elvehjem L140
Presented in partnership with the Center for the Humanities and the Institute for Research in the Humanities
Christina Sharpe is Professor of English at Tufts University and the author of Monstrous Intimacies: Making Post-Slavery Subject and In the Wake: On Blackness and Being. Her research interests are in black visual culture, black diaspora studies, and feminist epistemologies, with a particular emphasis on black female subjectivity and black women artists.
In In the Wake, Sharpe interrogates literary, visual, cinematic, and quotidian representations of Black life that comprise what she calls the "orthography of the wake." Activating multiple registers of "wake"—the path behind a ship, keeping watch with the dead, coming to consciousness—Sharpe illustrates how Black lives are swept up and animated by the afterlives of slavery, and she delineates what survives despite such insistent violence and negation. Initiating and describing a theory and method of reading the metaphors and materiality of "the wake," "the ship," "the hold," and "the weather," Sharpe shows how the sign of the slave ship marks and haunts contemporary Black life in the diaspora and how the specter of the hold produces conditions of containment, regulation, and punishment, but also something in excess of them. In the weather, Sharpe situates anti-Blackness and white supremacy as the total climate that produces premature Black death as normative. Formulating the wake and "wake work" as sites of artistic production, resistance, consciousness, and possibility for living in diaspora, In the Wake offers a way forward.