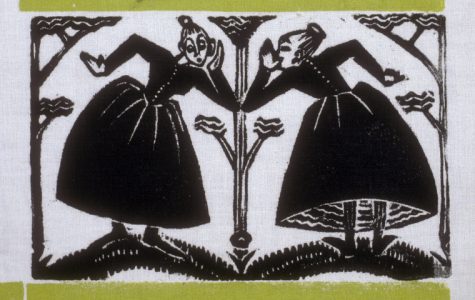 MARINA MOSKOWITZ
RUTH KETTERER HARRIS LECTURER
PUBLIC LECTURE:
"GOSSIPS, GARLANDS, AND THIRTY-FOUR COWS: THE MODERN FOLD AESTHETIC OF THE FOLLY COVE TEXTILE DESIGNS"
Thursday, November 1, 2018 @ 7:00 PM
Room 2235, Nancy Nicholas Hall
1300 Linden Drive, Madison
During the 1940s through 1960s, in the small community of Folly Cove in Gloucester, Massachusetts, a network of artists and designers produced block-printed textiles for the mid-century American home. Drawing on the landscapes and cultural icons they saw around them in rural New England, the Folly Cove Designers often incorporated these everyday images into strikingly modern graphics. Started by Virginia Lee Burton, the writer and illustrator of popular children's books, the Folly Cove Designers worked as a collective, critiquing one another's work and encouraging attention to detail in design and craftsmanship. The Folly Cove Designers sought to bring fine art to the home, in their case primarily through hand-printed table linens; they also supplied designs to regional and national department stores and fabric companies. The discussion of the Folly Cove Designers will focus on examples collected by Helen Louise Allen and now housed in the Helen Louise Allen Textile Collection.