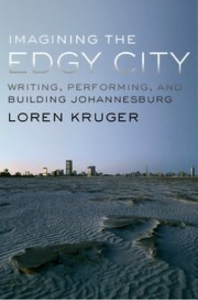 "THEATRE IS NOT PART OF OUR [AFRICAN] VOCABULARY"? PERFORMANCE PRACTICES IN SOUTH AFRICA AND BEYOND"
THURSDAY, SEPTEMBER 27TH @ 4:30 PM
IN THE MAIN ROOM OF SPECIAL COLLECTIONS AT MEMORIAL LIBRARY.
Kruger's most recent book, Imagining the Edgy City, brings together film and fiction, public art, architecture, and history with previous work on theatre and other performances in Johannesburg. The book shows how apparently new claims for Johannesburg as global city hide a long history of images of Johannesburg as the wonder city of Africa and the world, with comparisons both pertinent and impertinent with other cities from Chicago to Paris, Berlin to Bogotá, Sydney to Sāo Paulo. Johannesburg has been called the "Chicago of South Africa" partly because of gangster culture in both places, but Johannesburg also owes a lot to the influence of Chicago architects and urbanists.