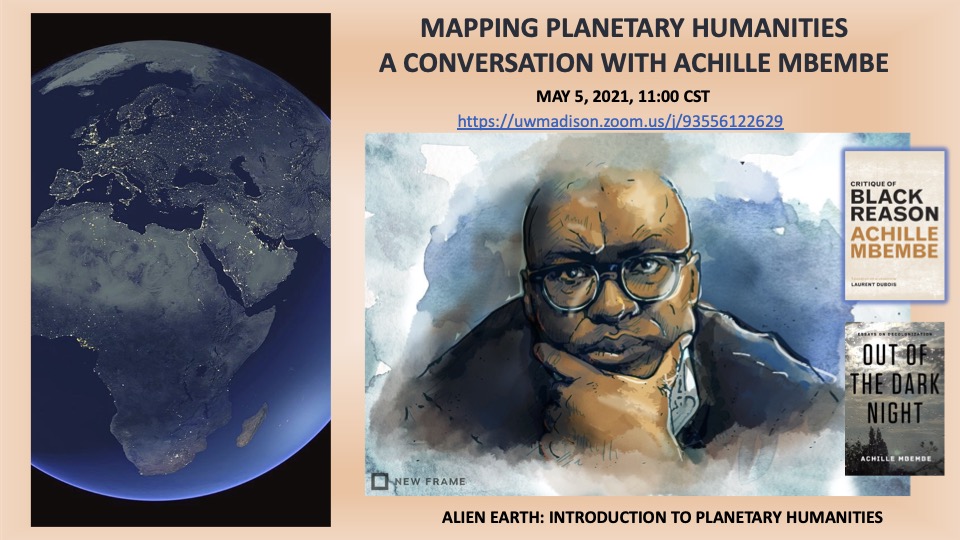 A Conversation with Achille Mbembe
Wednesday, May 5th, 2021 | 10:00–11:30am CT
Center for the Humanities
Zoom
This final session of the ongoing speaker series Mapping Planetary Humanities will consist of an interview on the ways that Dr. Achille Mbembe's work intersects with questions of planetary, decolonization and critical race studies, followed Q&A with the audience.
Dr Achille Mbembe is Research Professor in History and Politics at the Wits Institute for Social and Economic Research at the University of Witwatersrand, Johannesburg. A renowned public intellectual and prolific writer, Dr Mbembe has written extensively on postcolonial theory and African history and politics. His most recent work theorizes the genealogy of the contemporary world through the lens of necropolitics and explores planetary habitability as inseparable from the politics of care, repair and restitution.
To help facilitate our discussion on planetary and decolonization, we invite you to review "Thoughts on the planetary: An interview with Achille Mbembe," published on September 5th, 2019, with New Frame, as well as Chapter 1, "Planetary Entanglements," from Out of the Dark Night: Essays on Decolonization, and the Introduction and Epilogue ("The Becoming Black of the World"and "There is Only One World,"respectively) from
Critique of Black Reason. Please email arosoaie@wisc.edu if you ned help accessing these sources.
Alien Earth: Introduction to Planetary Humanities is hosted by the Center for the Humanities at the University of Wisconsin-Madison. Our workshop aims to draw together an interdisciplinary consortium of scholars from across humanities and sciences to explore the intersections of astronomy, colonialism and critical race studies, climate change and environmental justice.
THROUGH FORMS
A PERFORMANCE STUDIES SYMPOSIUM
TUESDAY, 27 APRIL
5:00 TO 7:30 PM CENTRAL DAYLIGHT TIME (GMT -5)
5:00 PM
The Elusiveness of Performance Art
Dan Van Note (Interdisciplinary Theatre Studies)
5:20 PM
"Outside of the playing space": What to Send Up When It Goes Down as Endurance Ritual
Lily Shell (Interdisciplinary Theatre Studies)
5:40 PM
Las Yeguas de Apocalipsis: Birds, Blood, and Plastic in works by Pedro Lemebel and Francisco Casas Salva
Anna Gebarski (Interdisciplinary Theatre Studies)
6:00 PM
Auqa Chileno: Reenacting a National Traumatic Memory
Andrea Guzmán Giura (Latin American Caribbean, and Iberian Studies)
6:20 PM
Dissensus practice: the case of Qanmicha violador qanmi kanki
Pedro de Jesus Gonzalez Duran (Spanish & Portuguese)
SHORT BREAK
6:45 – 7:30 PM
Panel Discussion with All Presenters
Moderated by Laurie Beth Clark & Michael Peterson
Professors, Art Department, University of Wisconsin
Register at this link;
https://uwmadison.zoom.us/webinar/register/WN_-e0aNWqvSU-qY4fq-sxwMg
Abstracts and bios at this link:
https://docs.google.com/document/d/13FzgHgyoNYGA9JaU89jmdK3sEvSbCcvHSLoIEYxnUoQ/edit?usp=sharing
For more information contact: lbclark@wisc.edu or michael.w.peterson@wisc.edu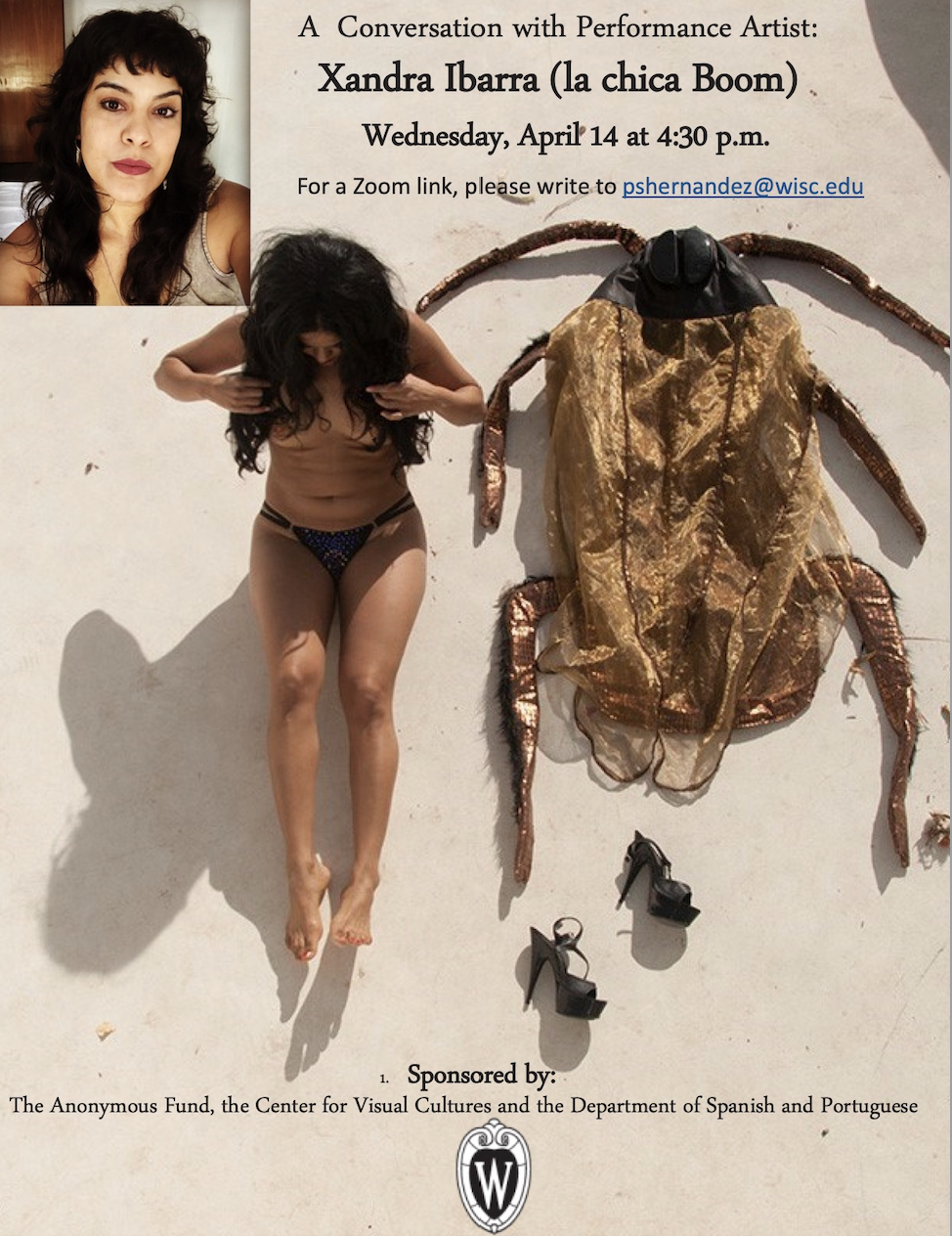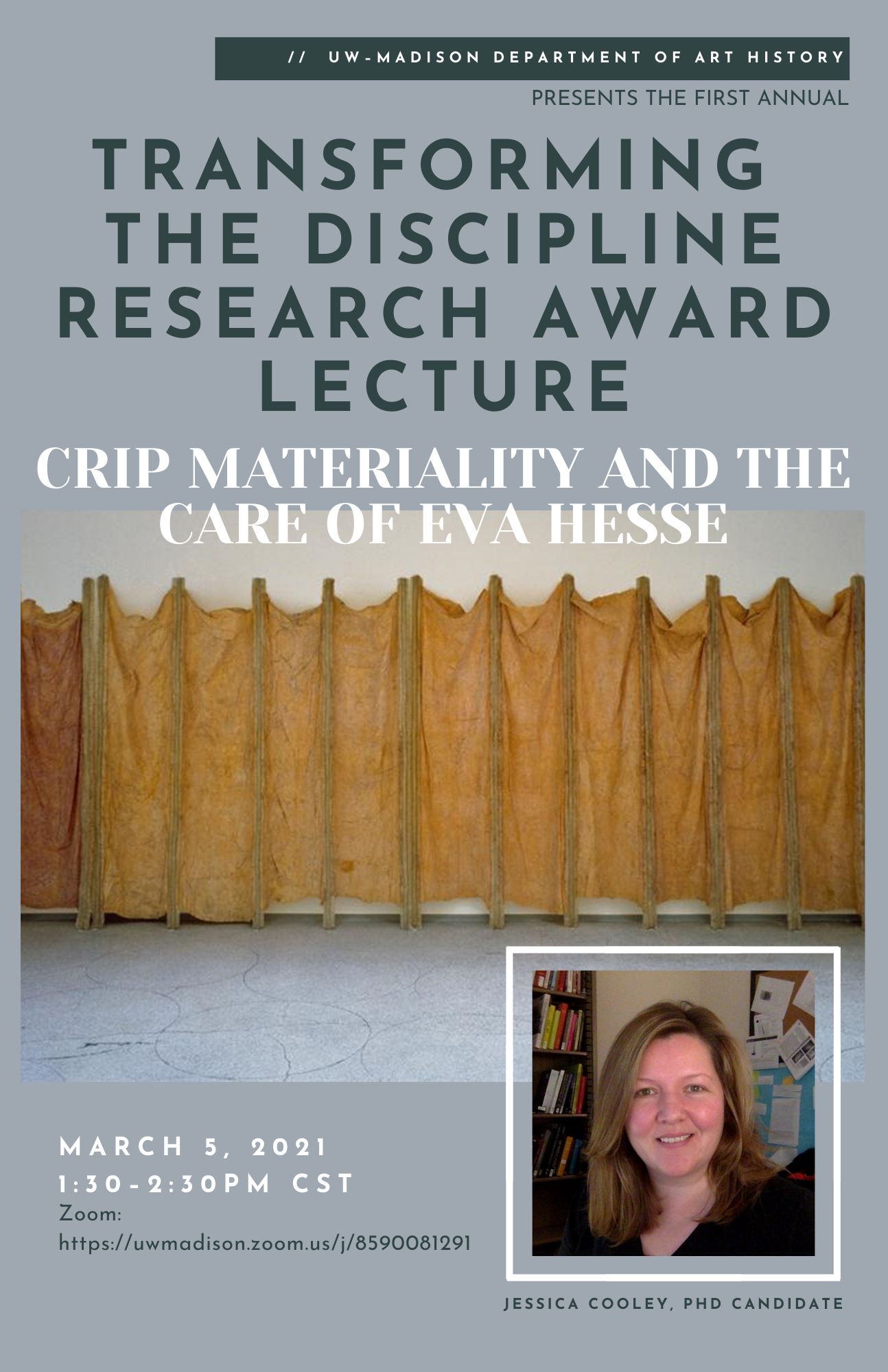 The department of Art History is delighted to announce the recipient of our first annual Transforming the Discipline Graduate Research Award. This new award is granted each year to a graduate student, whose research makes a significant contribution toward transforming the discipline of art and architectural history in terms of its structural inequities. Please join us in celebrating this year's recipient, Jessica Cooley, who will be presenting her research in a talk called "Crip Materiality and the Care of Eva Hesse" on March 5, 1:30-2:30.
"Design Bones: Decoding the Correlates of Design Thinking"
A Lecture by Mark Schar

Thursday, March 4, 2021
4:00 PM CST

Abstract:
Design Thinking is all the rage … and everyone wants to be one.  But what exactly is "design thinking" and what makes it different from other forms of "thinking"? Studying people/designers that are associated with design thinking reveals some of the core pillars of design thinking behavior, who might inherently have those behaviors and who are likely to develop those behaviors in the course of their academic and working lives.  This raises important issues for the teaching of design thinking and how it might be tracked in student progress.
Biography:
Mark is a Senior Teaching and Research Fellow at the Design School within the School of Engineering at Stanford University. He has a PhD in Mechanical Engineering from Stanford, an MBA from the Kellogg School of Management from Northwestern University, and a BSS also from Northwestern University. Mark had a 25-year career at The Procter & Gamble, retiring as a Senior Vice President General Manager, followed by a 5-year stint at Intuit as Chief Marketing Officer and Senior Vice President of Tax Services. He teaches classes on Solid Mechanics, Design Process, Team Management, Product Management, and Leadership with research interests on innovative behaviors and the development of a scale to measure engineering, innovation, and design thinking self-efficacy.
website and registration: https://uwmadison.zoom.us/webinar/register/WN_Xtb3QHDfRlWUjScLDL3nRw
College Art Association Annual Conference
The College Art Association of America (CAA) is the principal organization in the United States for professionals in the visual arts, from students to art historians to emeritus faculty. Founded in 1911, it "promotes these arts and their understanding through advocacy, intellectual engagement, and a commitment to the diversity of practices and practitioners." CAA currently has individual members across the United States and internationally; and institutional members, such as libraries, academic departments, and museums located in the United States. The organization's programs, standards and guidelines, advocacy, intellectual engagement, and commitment to the diversity of practices and practitioners, align with its broad and diverse membership.
CAA holds its Annual Conference in February every year. The conference moves to different cities each year, returning to New York every other year. Cities that have hosted the CAA Annual Conference include, Houston, Seattle, Boston, Washington, D.C., Los Angeles, Chicago, and other major American cities. Between four and six thousand members attend each year, depending on the location. The convention is the largest and most important of the year for makers and interpreters of visual art and visual culture. The conference typically includes more than 300 panels and sessions examining a wide array of topics and issues in the art world. This year, the conference is being held virtually.
Visit the CAA website for more information.