Basquiat to Present Day: The Importance of African American Visual Culture
Lecture by Professor Anthony Black
October 26 @ 6:00PM
Elvehjem L140 
Sponsored by the Department of African American Studies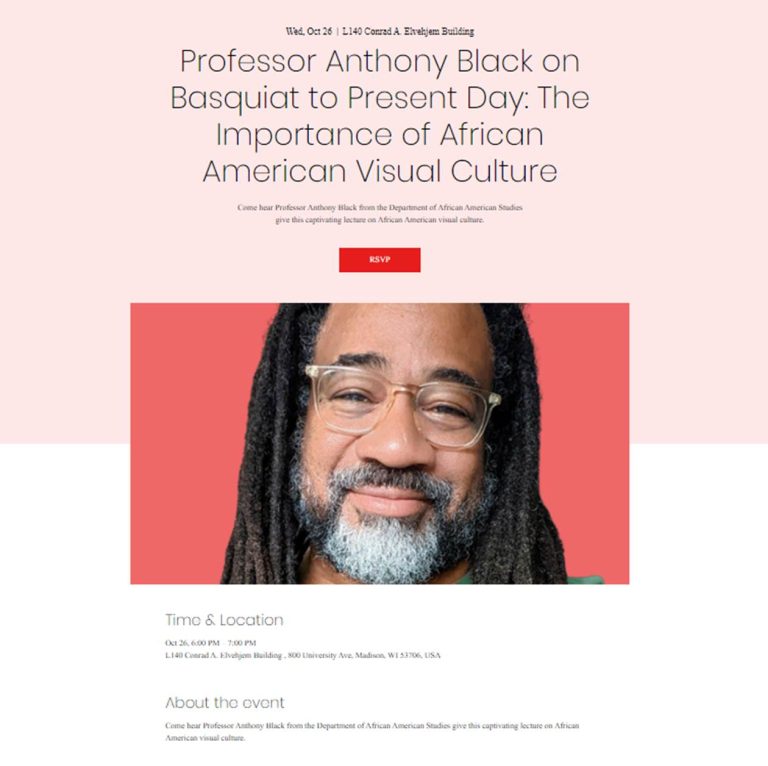 Untitled (Melancholy as Medium)
A film preview and audience discussion with Professor Jill Casid
October 26th @6:00 PM
1310 Sterling Hall
Sponsored by the Center for Research on Gender and Women.
Dress Rehearsal For a Dream Sequence
A talk by Professor Anna Campbell
September 28th @ 6:00 PM
4001 Felland Road Suite 123
Join Professor Anna Campbell for an informal talk on her recent exhibit, Dress Rehearsal for a Dream Sequence, on view this past spring in New York's Participant, Inc. gallery. Campbell will discuss research from a studio art perspective, and the queer archival methods critical to this body of work. Selections from the exhibit will be on view, as well as elements of new works currently in progress. This event is hosted by The Center for Research on Gender & Women.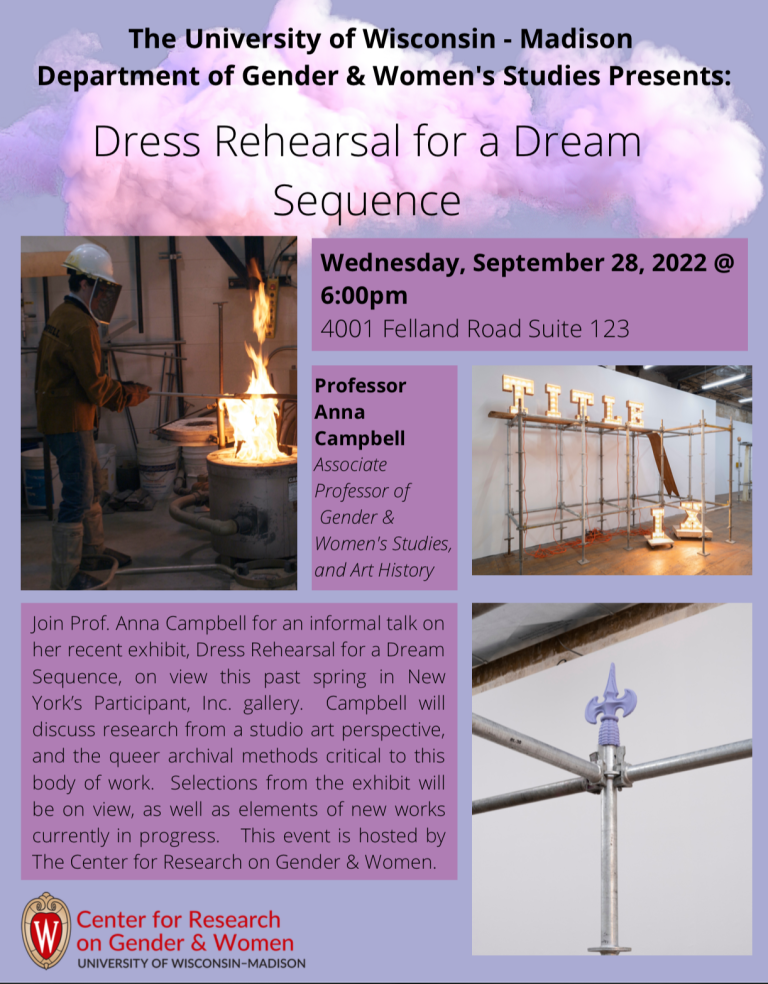 PSI #27: Hunger 2022
From 6-9 July, Performance Studies international will host its 27th annual conference on the theme of Hunger.
The following events will be streamed live and free to the public at this Facebook page: https://www.facebook.com/PerformanceStudiesinternational.
All times listed below are for Manila, Philippines.  Conversions for your region can be done easily at: https://www.timeanddate.com/worldclock/meeting.html
Thursday, 7 July, 20:15 to 21:30
Hunger Kills: Memory and Justice After Famines
Camilla Orjuela, Swati Parahsar, Adrian Kear
Thursday, 7 July, 22:00 to 23:30
Hunger and the Response-ability of Performance
Adrian Kear, Sruti Bala, Patrick Anderson, Marian Roces
Friday, 8 July, 6:00 to 7:30
Global Action to End Hunger: Prospects for 2030
Laurie Beth Clark, Michelle Miller, Matilda Baraibar, Br. Armin Luistro FSC, Mpumelelo Ncwadi, Gaston Ares
Friday, 8 July, 8:00 to 9:30
Foodways Philippines
Jazmin Llana, Laurie Beth Clark, Michael Peterson, Fritzie Ian De Vera, Neil Penullar, Reigner Sanchez, Jian Tan, Leo Tadena, Norby Salonga
Friday, 8 July, 16:00 to 17:30
Water, War, Drought: North and East Syria
Nilufer Gros, Engin Sustam, Xezne Ibrahim, Hevi Musa, Sermin Guven, Celil Kaya
Friday, 8 July, 20:00 to 21:30
Points of Contact: Hunger, Food, and Performance
Richard Gough, Laurie Beth Clark, Michael Peterson
Information about the full conference (with many more events) can be found at: https://www.psi-web.org/about-hunger-2022/
Spatula&Barcode
https://www.spatulaandbarcode.art/