WHO ARE WE?
Founded in 2002, the Center for Visual Cultures at the University of Wisconsin-Madison supports curricular innovation and interdisciplinary collaboration from faculty and students in the emerging field of visual cultures. We sponsor a yearlong speaker series on topics of general and critical interest and invite members of the community and the university to meet speakers and participate in events and workshops. For students, we offer a Ph.D. Minor and a Graduate Certificate in Visual Cultures. Join us in exploring the multiple visual cultures around us and around the world.
 WHY STUDY VISUAL CULTURES?
Students need the skills in visual literacy and criticality that we teach, if they are to participate and succeed in the rapidly expanding field of Visual Cultures. What we mean by this is that, while the study of visual cultures is an interdisciplinary field in its own right, its rise as a field stems from the fact that we live in an image-dominated world. As a growing consequence, a demonstrated capacity to analyze and critically and creatively intervene in that visual world becomes increasingly an aspect of professional demand for students pursuing degrees in a wide range of traditional disciplines from Anthropology to History. Thus, there are two primary reasons to pursue the Ph.D. Minor and its associated Graduate Certificate that we take into consideration. First, training in visual literacy and criticality enhances qualifications, and thus job prospects, for students across disciplines. Second, students across a range of disciplines pursue research for their home degrees (i.e., theses, M.F.A. exhibitions, dissertations) that requires skill in visual analysis training for which is not provided by their primary host degree program. The rigorous course work for the Ph.D. Minor and the Graduate Certificate ensures that students who complete the program have a solid understanding of critical methods, field training, and theories in visual cultures. The strength of the program is demonstrated by the professional success of its graduates.
MORE ABOUT THE VISUAL CULTURES COMMUNITY ON CAMPUS
Over the years, the Center has been fortunate to host artists and scholars from around the world. Their visits have contributed significantly to the creative, academic atmosphere that we strive to foster on campus. The study of transdisciplinary and critical work with the visual is radically dispersed across not just departments within the College of Letters and Science but also across schools and colleges. From its inception and largely for this reason of atomized dispersal, the Center and its degree program have offered a way to create the kind of robust intellectual community necessary for advanced research and professional training (including re-training). The lectures, exhibitions, and workshops that we host enable all students with interests in Visual Cultures to tap into a ready-made academic structure with a community of scholars, artists, and activists. Currently, our faculty affiliates and an ever-expanding number of students are based in departments across colleges and schools, ranging from Afro-American Studies, English, Art, Communication Arts, History, Art History, Gender and Women Studies, and Languages (Spanish, Portuguese, Japanese, German, French) to Design Studies, Geography, Genetics, Ethnomusicology, and Interdisciplinary Theatre Studies, among others.
MINOR & CERTIFICATE
We offer a Doctoral Minor and a Graduate Certificate for masters and professional students. Students enrolled in a terminal M.A. or M.F.A. program are eligible for a Graduate Certificate whereas Ph.D. students are eligible for a Doctoral Minor.
The Doctoral Minor and the Graduate Certificate in Visual Cultures are intended for students from across the University who desire training in the interdisciplinary study of visual cultures. The field of visual cultures analyzes the social construction of images as well as their impact in our social world. Visual Culture Studies differs from other related disciplines in two ways: first, its field of inquiry includes an expansive array of visual cultural artifacts and practices; and, second, its methodologies focus on the constitution of power relations through visual markers of race, gender, disability, and nationality. As the world continues to become increasingly understood through, and reliant on, the visual (the internet, films, television, scientific graphs, data visualization, video games, and advertisements), the need for people trained with the ability to critically interpret, create, and evaluate those mediums is essential.
DIVERSITY, EQUITY, AND INCLUSION STATEMENT
The Center for Visual Cultures thrives in its diverse and inclusive community in which individuals of any gender, race, ethnicity, disability status, religious affiliation, sexual orientation, cultural upbringing, language variety, and socioeconomic standing may flourish. Diversity, equity and inclusion are central to our core identity, our founding mission, and how we design our lecture lineup and academic program. We welcome diverse perspectives, especially of those who are marginalized or vulnerable members of society.
AFFILIATE EVENTS
2021-2022
ANNUAL THEME: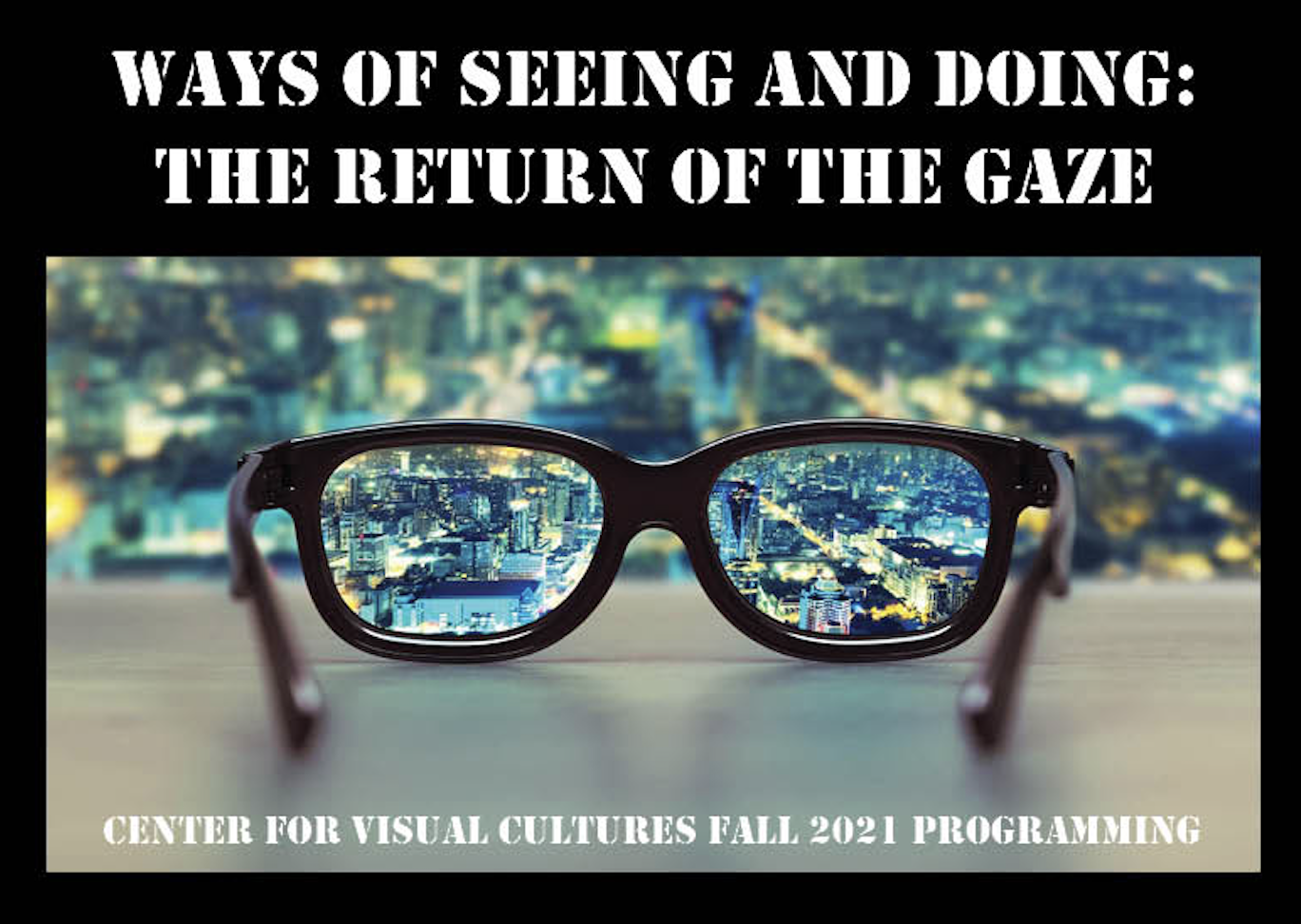 Through the prism of global pandemic and protest, this year-long theme confronts visuality and power via the emergent ways of seeing and doing that manifest in and through visual cultures—with particular attention to the dynamics of lives lived ever more via the online interface. We aim to go beyond the recognition of COVID-19 as the great revealer, to think with and at the limits of who has access to new modes of online communication and how increased visibility of political protest in the face of exacerbated structural inequity and heightened surveillance at the intersections of BIPOC, queer, feminist, ecological, crip activism and theorization visualize our constant struggles. In framing this year's theme in terms of the potentials of the return of the gaze, we have invited talks and other events that focus on a wide range of approaches to how art, theatre, performance, film, bodies, and theorization in and through practice explore these topics.
Please join us!
CVC PROGRAMMING
FALL 2021
Lecture: "Cin-aereal attractions: F.W. Brinton and the Technical and Fantastical Correspondences between Early Aviation and Cinema" on Thursday, November 18, 2021 @ 4:00 PM CST via Zoom.
Workshop: "'Shadow Sites': Clouded Vision in the Archives of Aerial Photography" on Friday, November 19, 2021 @ 12:00 PM CST via Zoom. Space is limited for the workshop. Please RSVP to cvc@mailplus.wisc.edu to receive the link.
Lecture: "With Natural Lighting: Painting and Filming History and the Invisible Amazonia" on Thursday, November 4, 2021 @ 5:00 PM CDT in Elvehjem L160
Workshop: "How to Tow a Net: Reciprocity and Collaboration in Amazonian Visual Arts" on Friday, November 5, 2021 @ 12:00 PM CDT in UClub Room 212, 432 East Campus Mall. Space is limited for the workshop. Please RSVP to cvc@mailplus.wisc.edu
Lecture:"'Someone is Dying Before Your Eyes': performance theory and police violence"
Thursday, October 7, 2021
5:00 PM CDT via Zoom Webinar.
Workshop: "Oversight for Artists" Friday, October 8, 2021
12:00 PM CDT Zoom Meeting. To attend the workshop and receive the link,
please RSVP to cvc@mailplus.wisc.edu.
Lecture: "GIF(ted) Bodies: Embodiment, Affect, and Gender in GIF Art" Thursday, September 23, 2021
4:00 PM CDT via Zoom Webinar.
Workshop:"Thinking Through the GIF Economy"
Friday, September 24, 2021
12:00 PM CDT
Zoom Meeting. To attend the workshop and receive a link to the zoom event, please RSVP to cvc@mailplus.wisc.edu.