WHO ARE WE?
Founded in 2002, the Center for Visual Cultures at the University of Wisconsin-Madison supports curricular innovation and interdisciplinary collaboration from faculty and students in the emerging field of visual cultures. We sponsor a yearlong speaker series on topics of general and critical interest and invite members of the community and the university to meet speakers and participate in events and workshops. For students, we offer a Ph.D. Minor and a Graduate Certificate in Visual Cultures. Join us in exploring the multiple visual cultures around us and around the world.
 WHY STUDY VISUAL CULTURES?
Students need the skills in visual literacy and criticality that we teach, if they are to participate and succeed in the rapidly expanding field of Visual Cultures. What we mean by this is that, while the study of visual cultures is an interdisciplinary field in its own right, its rise as a field stems from the fact that we live in an image-dominated world. As a growing consequence, a demonstrated capacity to analyze and critically and creatively intervene in that visual world becomes increasingly an aspect of professional demand for students pursuing degrees in a wide range of traditional disciplines from Anthropology to History. Thus, there are two primary reasons to pursue the Ph.D. Minor and its associated Graduate Certificate that we take into consideration. First, training in visual literacy and criticality enhances qualifications, and thus job prospects, for students across disciplines. Second, students across a range of disciplines pursue research for their home degrees (i.e., theses, M.F.A. exhibitions, dissertations) that requires skill in visual analysis training for which is not provided by their primary host degree program. The rigorous course work for the Ph.D. Minor and the Graduate Certificate ensures that students who complete the program have a solid understanding of critical methods, field training, and theories in visual cultures. The strength of the program is demonstrated by the professional success of its graduates.
MORE ABOUT THE VISUAL CULTURES COMMUNITY ON CAMPUS
Over the years, the Center has been fortunate to host artists and scholars from around the world. Their visits have contributed significantly to the creative, academic atmosphere that we strive to foster on campus. The study of transdisciplinary and critical work with the visual is radically dispersed across not just departments within the College of Letters and Science but also across schools and colleges. From its inception and largely for this reason of atomized dispersal, the Center and its degree program have offered a way to create the kind of robust intellectual community necessary for advanced research and professional training (including re-training). The lectures, exhibitions, and workshops that we host enable all students with interests in Visual Cultures to tap into a ready-made academic structure with a community of scholars, artists, and activists. Currently, our faculty affiliates and an ever-expanding number of students are based in departments across colleges and schools, ranging from Afro-American Studies, English, Art, Communication Arts, History, Art History, Gender and Women Studies, and Languages (Spanish, Portuguese, Japanese, German, French) to Design Studies, Geography, Genetics, Ethnomusicology, and Interdisciplinary Theatre Studies, among others.
2020-2021
ANNUAL THEME: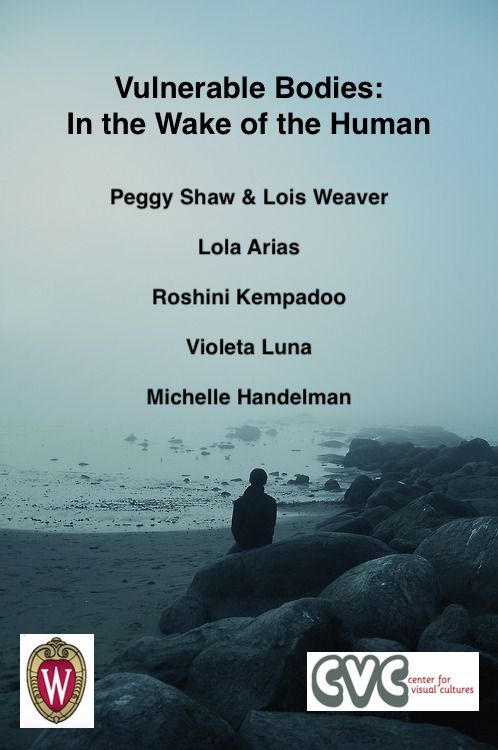 This year-long theme confronts the complex relationships between the able-ist norms of visual cultures and abject, queer, disabled, erased, as well as traumatized bodies. Coinciding with the 30-year anniversary of the Americans with Disabilities Act (ADA), we envision an interdisciplinary platform that can inform and dialogue with a variety of approaches from feminist, queer, crip, critical race, and disability theories, to performance, trauma, and memory studies that question how bodies are visualized, surveilled, imagined, exploited, or negated. Bodies bring forth the possibility of connecting worlds and networks often held apart and of understanding how neoliberal (racial and carceral) capitalism does not just regulate both ability and disability but also produces precarious and vulnerable bodies. With these terms, our lineup focuses on a wide variety of approaches to how art, objects, and bodies are both regulated by and resist against dominant systems of power.
MINOR & CERTIFICATE
We offer a Doctoral Minor and a Graduate Certificate for masters and professional students. Students enrolled in a terminal M.A. or M.F.A. program are eligible for a Graduate Certificate whereas Ph.D. students are eligible for a Doctoral Minor.
The Doctoral Minor and the Graduate Certificate in Visual Cultures are intended for students from across the University who desire training in the interdisciplinary study of visual cultures. The field of visual cultures analyzes the social construction of images as well as their impact in our social world. Visual Culture Studies differs from other related disciplines in two ways: first, its field of inquiry includes an expansive array of visual cultural artifacts and practices; and, second, its methodologies focus on the constitution of power relations through visual markers of race, gender, disability, and nationality. As the world continues to become increasingly understood through, and reliant on, the visual (the internet, films, television, scientific graphs, data visualization, video games, and advertisements), the need for people trained with the ability to critically interpret, create, and evaluate those mediums is essential.
SPOTLIGHT
A joint publication of the Journal of Visual Culture and the Farocki Institut features a collaborative article by UW graduate students who started this work in AH802. Link to a PDF of the publication: Pause.Fervour.Reflections on a Pandemic
WHY TAKE
ART HISTORY SUMMER COURSES?
*Learn skills like visual analysis, social history, and cultural empathy to find out why medical schools and detective academies teach art history!
*Focus on a subject you love- or learn a new one- without juggling a full course load!
*Earn credits now so you can participate in study abroad program or internships yet still graduate on time!
*Great way to catch up on – or get ahead in – your studies!
*Save both time and money: Summer Term can eliminate up to an entire extra year on campus!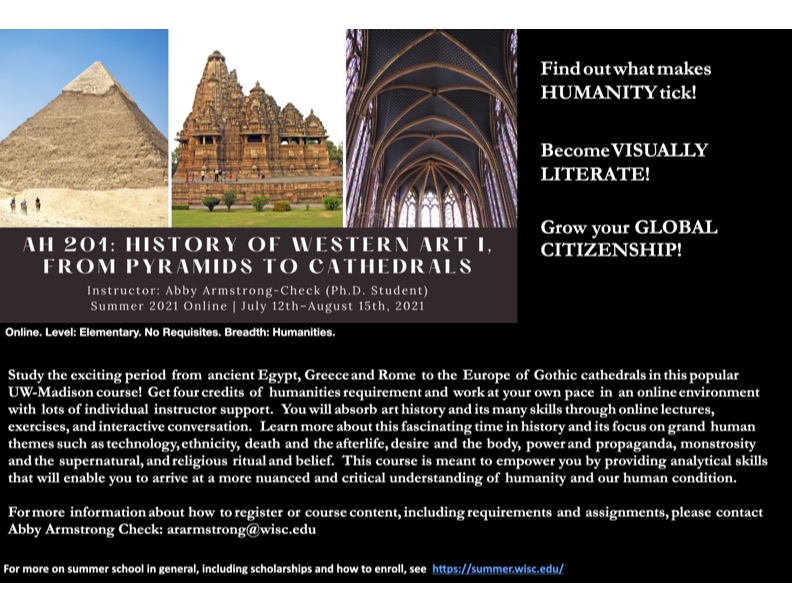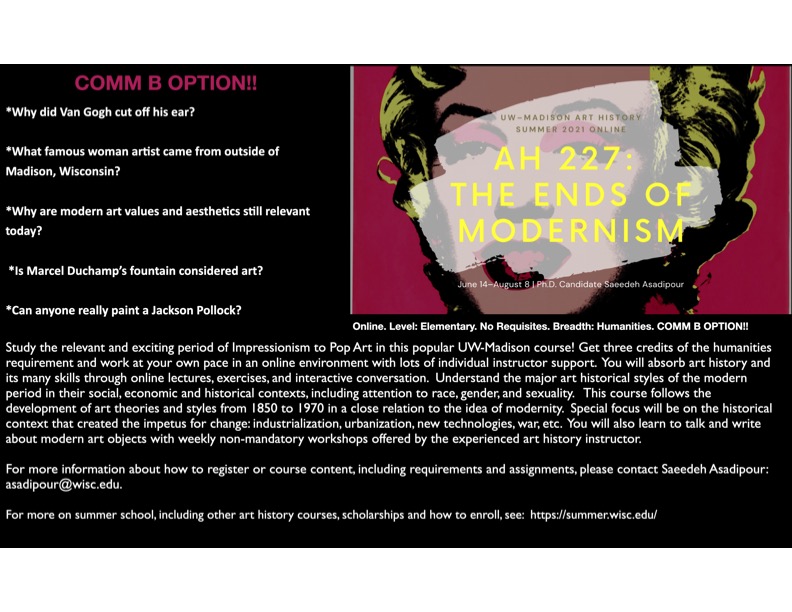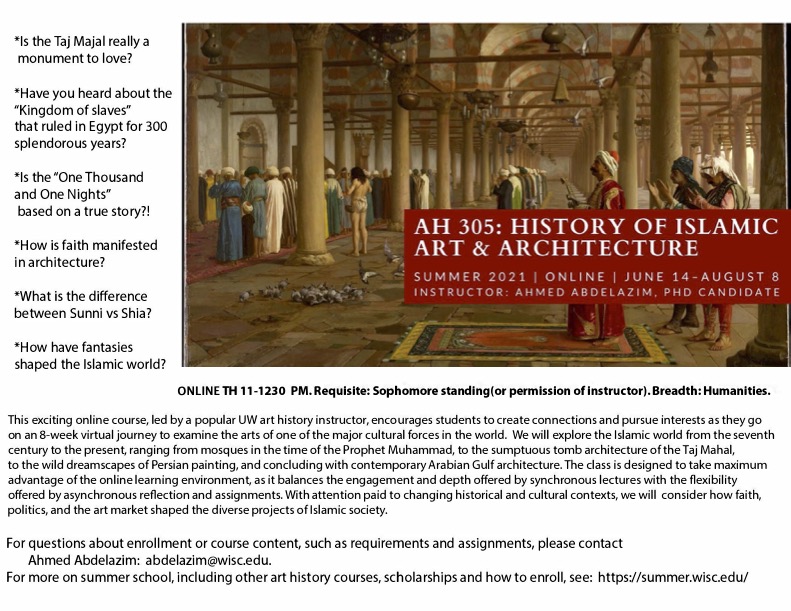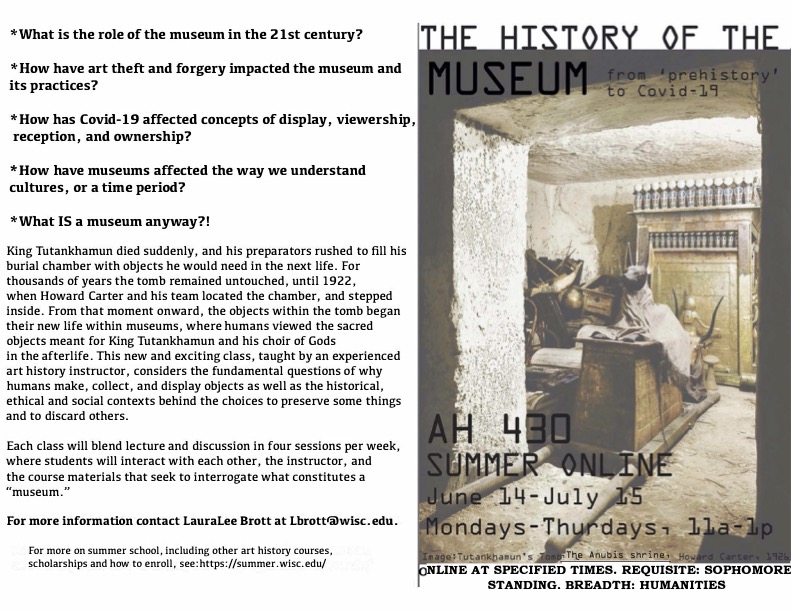 SUMMER HAPPENINGS
HOME STRETCH
A distributed festival of creative acts for small audiences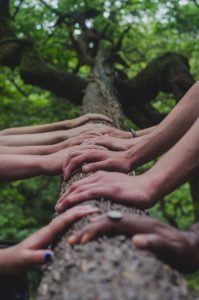 Sign up at
Home Stretch is a "distributed festival" of small artistic acts taking place in Madison, WI between the summer solstice (21 June) and the autumn equinox (22 September). By appointment, local artists are offering intimate performances and other arts experiences throughout the summer.
Artists participating at this time include Amber Palmer, Angela Johnson & Justin Bitner, Bird Ross, Cyra Polizzi, Derick Wycherly, James Ember, Jen Plants, Laurie Beth Clark& Maya Barsacq & Meg Mitchell, Marina Kelly & Bethany Alwa, Michael Peterson, Nicole Gruter, Praveen Maripelly, Quanda Johnson, Solarpunk Surf Club, Teresa Audet, Victoria Hoff and Zoe Cohen.
This is a project in process: participating artists and performances may change and develop. New events and new dates for existing events will continue to be added throughout the summer.`
In this time of transition between COVID lockdowns and eventual  reopening, Home Stretch explores how forms of performance and other kinds of aesthetic sociality can help us re-learn how to be together.
Participating artists have committed to meet or exceed city, county, state and CDC COVID-19 guidelines. While there are no public health orders currently in place, each work is clearly described so that you can sign up for experiences based both on your interests and your comfort level. Currently most works are planned for outdoor locations and don't require masks.
The title Home Stretch refers less to the idea of the final part of a race, since the pandemic is far from over. Rather, it's about artists stretching their homes into public space, and the public stretching out of lockdown bit by bit. These art experiences are a chance to stretch both social and artistic muscles.
All events are free to attend, though some performers may pass a hat or request donations to specific causes.
​Home Stretch is a project of Spatula&Barcode, a Madison-based arts collaborative devoted to conviviality, criticality and commensality. Spatula&Barcode was founded by Laurie Beth Clark and Michael Peterson, professors of Art at the University of Wisconsin-Madison. More information about Spatula&Barcode can be found at https://spatulaandbarcode.net/.

Home Stretch is funded in part by grants from the University of Wisconsin Division of the Arts and the Madison Arts Commission.
PHYSICAL DISTANCE / SOCIAL SOLIDARITY